posted 04-10-2002 08:47 AM
---
1938: Germany annexes Austria.

1940: British destroyers outnumbered in 1st Battle of Narvik.

1940: Bitter fighting as Germans advance north from Oslo.

1941: U.S. troops occupy Greenland to prevent Nazi infiltration.

1941: The 9th Australian Division withdraws into Tobruk.

1941: Hungary invades Yugoslavia. Germans enter Zagreb, allowing Ante Pavelic, the Croatian Fascist leader, to return from Italian exile and proclaim the independent state of Croatia, with him as Poglavnik (leader).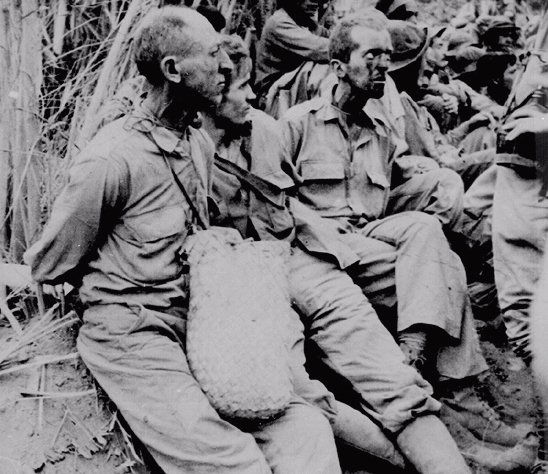 1942: Bataan Death March begins as 76,000 Allied POWs including 12,000 Americans are forced to walk 60 miles under a blazing sun without food or water toward a new POW camp, resulting in over 5,000 American deaths.
1942: British negotiations in India break down.
1943: British forces take Sfax, 150 miles South of Tunis.
1943: USAAF bombers sink the Italian cruiser Trieste in raid on Sardinia.
1944: The RAF drop a record 3,600 tons over northern France.
1944: The Russians enter Odessa on Black Sea.
1945: With the battle of Vienna ongoing, the German 6th SS Panzer Army succeeds in defeating fierce Russian attacks into the districts of Wiener Neustadt and to the West of Baden. The besieged Germans in Breslau continue to repel the repeated Russian attacks. A German war communiqué now declares that the resistance in Königsberg has ceased, but that no surrender has occurred.
1945: The German heavy cruiser Admiral Scheer is sunk during a massive RAF raid on Kiel.
1945: The Canadian First Army continues its push North into Holland, taking Deventer, 30 miles North of Nijmegen. The British Second Army takes Wildenhausen, 20 miles Southwest of Bremen. The U.S. Ninth Army takes Hanover. The RAF attack Kiel, while the US 8th Air Force launches its heaviest raid to date (1,232 bombers) against Berlin. Churchill reveals British Empire casualty figures up to this point as 306,984 killed. Total casualties are 1,126,802, merchant navy losing 34,161 dead or captured. Civilians casualties are 59,793 killed and 84,749 injured.
1945: In their second attempt to take the Seelow Heights, near Berlin, the Red Army launches numerous attacks against the defending Germans. The Soviets gain one mile at the cost of 3,000 men killed and 368 tanks destroyed.
This Day in WWI
1917: Sir William Robertson advocates to Haig the dispatch of immediate American expeditionary force "to get some Americans
killed and so get the country to take a real interest in the war"
--------------------
"Its a dog eat dog world out there, and I'm wearing Milkbone underwear!"

---
Posts: 10794 | From: Cedar Rapids, Iowa USA | Registered: Sep 1999 | IP: Logged